Majo (nsfw)
A downloadable game for Windows
Majo is a short hentai rpg about Izuki, a witch who is booted out of her home by the demon king, who's main motivation is making her his latest concubine. She's weak, so she has to go around wrecking the guys underlings in an effort to get stronger and kick him out of her home. Izuki also utilises various tools to traverse the map, hookshot, bow,etc. There are puzzles too.
This is the game that introduced my sexy status effects that are featured in Princess Ren Returns and SD Quest. In this game you can tie up some enemies for sexy (or humorous) pics of them.
The game features on map encounters and besides the bondage images for tying up enemies (or being tied up), the erotic content is scenes with text and CG when the player loses. Most enemies have scenes, some are grouped together into one scene because YAY LESBIANS!
Don't play it if you don't like female submission fantasies.
This was made back when I made games that had a demo and a small unlock file, so dont be concerned about the similar file size, also despite the preview images being censored, this is the uncensored version.
THIS GAME REQUIRES THE RPGMAKER VX ACE RTP (google it).

Purchase
In order to download this game you must purchase it at or above the minimum price of $6 USD. You will get access to the following files:
Majo - full version (fix).zip
38 MB
Download demo
Comments
Log in with itch.io to leave a comment.
Say, I found a rusty key but never got to use it, what is it for?
menu says it opens wooden chests, but i can't find any in the game.
This is what it says in every of your games which feature rusty keys, I think this is the default description of this item and you never bothered to change it in any of your games even though you never actually use them to open wooden chests, you always use them to unlock doors. :-3
So I thought there is a locked door somewhere which unlocks with the rusty key but I didn't find any. Can you check the doors in the game?
And you didn't find any which requires a rusty key to unlock? Then did you put this key in the game by mistake?
forgot to take it out is more likely. I mean... potion chest is the default. so i had to have put it in deliberately.
Hey, I thought about it, how about you spice this game up by automatically applying the horny status to opponents if Izuki's clothes have been destroyed and she wears no panties? :-3
You know, at the start of the game, you ask to the player to choose between white panties, black panties or no panties.
If the player chooses the white panties then the game adds light damages to physical damages dealt by Izuki.
If the player chooses the black panties then the game applies mana regeneration to Izuki.
If the player chooses no panties then Izuki doesn't benefit any bonus.
So how about you make the game to automatically apply the horny status to all oponents who are not immune to this status if Izuki's clothes are destroyed and she doesn't wear any panties to spice things up, you know, opponents get horny when they see Izuki's pussy exposed, what do you think of this idea? ;-3
because horny is OP as is
I know it is a straight-forward game, but is there a guide anywhere that has possible secret areas and ways to get to/unlock them? or a guide period?
I don't think there are any secret areas... *looks through the editor*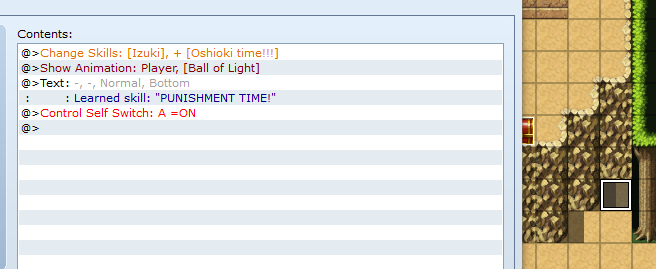 though there was this hidden skill if you hit z on this spot (its the map between the hub and the maze) outside the lava cave

you can take on the final boss at any point after you get the arrows but i recommend doing all the other bosses first.

as long as you learn the plant monsters weaknesses you can grind for permanent stat boosting items too.