Damsel Quest 3 (nsfw rpg)
A downloadable game for Windows
This game is NOT FOR CHILDREN
Damsel Quest 3 is a RPGMaker VX ACE rpg.
continuing on from Princess Ren Returns ,this game follows the adventures of Princess Ren, her half sister Kiri, and her childhood friend Emi, who go on a quest to rid Emi of a curse that turned her into a horny foxgirl. Along the way, they get into all sorts of trouble with slavers, lewd monsters,naughty nuns, and a cabal of magicians all hellbent on making you cave to their desires.
This game features sexual content some might find offensive, if you aren't fond of sex slave fantasies or hentai, then this game probably isnt for you.
Features
4-5 hours of gameplay spanning across 3 different routes.
59 base H cg

Several fun erotic minigames to enjoy. (and slot machines)

Battle system where the girls in the party can all be stripped, fondled or otherwise inconvenienced by ropes, handcuffs, slime, etc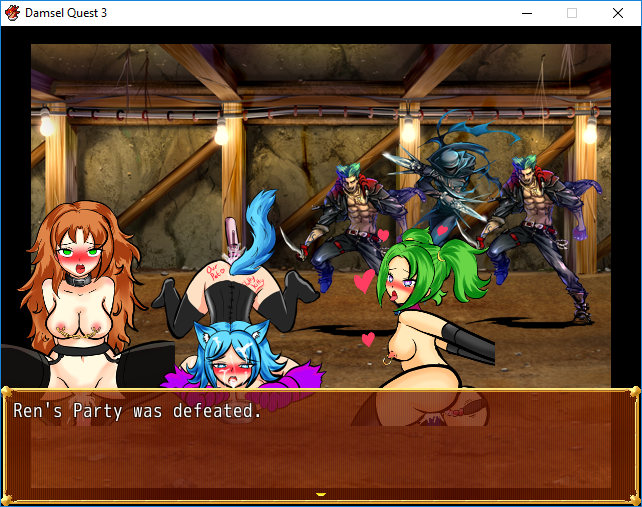 mostly on map encounters (with only one area using a traditional random encounter system thus far)
a wide range of quests from bounty hunting to typical fetch quests.
sex scenes for each of the girls if they are captured in battle, as well as game over scenes for bosses (most of the time, falling to ordinary enemies will not end the game and give you a chance to rebuild the party by rescuing the others)
Get the full trilogy here for just 12usd.
Azurezero HRPG BUNDLE HERE 20 USD - includes Damsel Quest 3, Princess Ren Returns, Majo, and SD Quest
NOTE- the demo is now the same demo as the dlsite one. my mega account got hacked and i dont have the demo anymore as ive been exporting newer versions for patrons. the full game is uncensored.

Feel free to comment if you have any feed back or have anything specific you'd like to see added to the game.
Version 1.31 - bugfixes

Version 1.3 - New Lewd events in the city.
Version 1.132 - Mostly bugfixes.
Version 1.12 - Gallery has been added. expansion of the city begun.
Purchase
In order to download this game you must purchase it at or above the minimum price of $10 USD. You will get access to the following files:
Damsel Quest 3 route split saves.zip
51 kB
Damsel Quest 3 2019 single bug fix.exe
81 MB
Damsel Quest 3 v1.32.exe
81 MB
Download demo